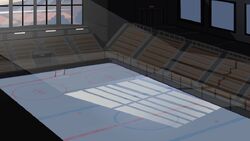 Faber Memorial Rink is the home of Samwell University's hockey team.
"Built in 1953 with renovations completed in 2003, Faber Memorial is a LEED Gold-certified ice skating rink. Located at the northern corner of Samwell's campus, the rink is the latest addition to the Samwell Athletic Complex and boasts to be the "greenest" college rink in America.
From 2001-2003, Faber underwent extensive renovation, which included the reconstruction of its east and south walls, updating its locker room and training facilities, the complete re-piping of the rink's 5-mile cooling system, and the installation of the building's most prominent new features: five 9-meter tall sustainable glass windows which work with light and heat sensors to regulate temperature. In fact, other than the walls itself (many of which were rebuilt with green construction materials), the only remaining elements of the old rink include the original hardwood benches and the the original layer of heated base-concrete under the ice[1]."
There's a loading dock at the back of the building which is the setting for solitary emotional moments.[2]
Further Resources
References