Kent V.[1] "Parse" Parson is an NHL star who is captain of the Las Vegas Aces[2][3], with whom he won a Stanley Cup[4] and the Calder Memorial Trophy[2]. He went first[5] in the 2009 NHL Entry Draft[6]. He wears jersey #90.[7]
Kent is from New York state[8][9] and was born on July 4, 1990.[1][10][11][12] Kent is 5'10" and about 175 pounds[13]. He has a cowlick.[14]
In the 2014-2015 season, he had a hat trick in a game against Calgary.[15] As of December 2014, he was leading the NHL in points and assists and was on a 31-game point streak.[2]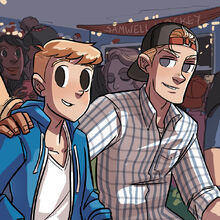 He attended the end-of-semester "EpiKegster"[16] at the Haus in December 2014,[17] arriving in a rented Porsche 918 Spyder, which the lacrosse bros took pictures with.[13] The gossip newspaper then ran a photo spread of all the people at the party who took a photo with him.[18] Parse got crushed by Lardo at flip-cup[2] and held up a sign admitting his defeat to her in their photo.[19]
According to Shitty, the subject of Kent Parson should be avoided when talking to Jack Zimmermann,[20] but after the party, discussion and opinions of him were generally positive.[21][22] Shitty describes Kent as "a modest bro"[2]. However, Eric Bittle is shown to hold a grudge as seen with him washing dishes rather aggressively when Tango questioned him on the subject of Kent Parson.[23] Bitty claims not to be jealous of Kent however when Jack admits he and Kent used to have a sexual relationship.[24] However, Bitty continues to hold a grudge as seen when he calls Kent "some piece of work" when talking to Tater months after he started dating Jack.[25]
A week before a game between the Falconers and the Aces, Kent is interviewed about the subject and his past with Jack. Kent tells the press that he intends to treat it like any other game even with the addition of Jack to the Falconers. When questioned on the same subject, Jack gives a similar answer and tells the press that while he and Kent have a history, its all in the past.[26] During the game, Jack is able to get past Kent and make a successful shot, but in the last seconds, Kent makes a run on the goal that puts the Aces ahead but could've injured the Falconers goalie, Snowy. Kent draws the ire of Alexi "Tater" Mashkov who calls him a rat and threatens Kent with bodily harm before being stopped. The officials decide that Kent's goal still stands and the Aces win the game.[27] After learning about Jack's relationship with Bitty, Tater is shown to still hold a grudge months later, telling Bitty that next time, he'll throw Kent across the ice.[28]
The night that the Falconers win the Stanley Cup, Kent is at the bar with some of his teammates. As his teammates make fun of Jack, Kent watches the video of Jack and Bitty kissing on his phone.[29]
Relationship with Jack Zimmerman
Kent is Jack's former teammate from the Quebec Major Junior Hockey League[30], where he was alternate captain[2], and Jack's first best friend.[13][31]
Jack and Kent were "the best pair the hockey world had seen", demolishing all of junior hockey's statistics and "patenting the Zimmermann-Parson no-look one-timer"[2]. Their team won the Memorial Cup in the 2008-09 season.[6]
Kent visited Jack at Samwell University after winning the Stanley Cup[2] and again at Epikegster, where they had an argument overheard by Eric Bittle.[32]
He is the only one who calls Jack "Zimms".[13]
In August 2015, while telling each other about their past relationships, Jack admits that he and Kent hooked up a few times in Juniors and he thinks Kent never really got over it. According to Jack, the relationship stopped when Kent got drafted and he didn't but looking back, his relationship with Kent wasn't anything more than "physical hockey." Jack tells Bitty the relationship was never good for him and it had an expiration date anyway as it could've ruined both his and Kent's careers. Bitty is left visibly worried about this statement due to his own growing relationship with Jack.[33]
During their first time on the ice together after Jack joins the NHL, Kent glares at Jack a great deal and smirks at him when his goal gives the Aces the win. Jack however doesn't acknowledge Kent beyond their interaction on the ice as opponents.[34]
While explaining his parents reaction to his relationship with Bitty, Jack tells Bitty that Bob and Alicia had known about him and Kent. However, he stops himself from calling Kent by name and calls him Parson instead.[35]
References
Community content is available under
CC-BY-SA
unless otherwise noted.