Samwell University, in Samwell, Massachusetts, is the setting of the main action in Check, Please! The university was established in 1874 and its undergraduate school is Samwell College. The school's colors are crimson and white and the students are called Wellies. Their hockey team plays in Faber Rink.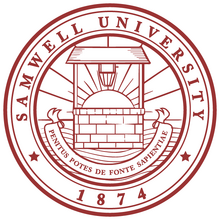 About the University
Samwell was the #1 most LGBTQ-friendly campus, as chosen by US News & World Report, for the three years leading up to the start of the story. There's a student organization called Samwell Athletes and Allies.[1] A lot of Samwell's varsity captains are also in Samwell's LGBT athletics.[2]
The motto of the university is "Penitus Potes de Fonte Sapientiae" (Drink deeply from knowledge's well). This led to the common student saying "Drink deeply!", which has prompted some administrators to consider changing the slogan[3].
The unofficial most popular mascot is Wellie the Dancing Well.[4] She is a beautiful well-lady[5] who spins like a maniac and her bucket hits people.[6]
The Campus
Samwell is divided into four main quads[7]:
Lake Quad - Also known as Middle Quad, this is the hub of activity at Samwell, Lake Quad includes the Well, which is a tourist attraction, and The Beach, otherwise known as the shore of the Pond. (The Pond is actually a large lake.) Samwell's main library, Founder's, is in this quad and its bell tower is said to resemble a part of the male anatomy[8]. On graduation, carillonneurs play in the tower of Founder's.[9] Also on this quad are Gregory, Kotter[10] or Koetter[11] which contains the student center, cafe, art school and the main gallery used for art shows;[12] and the Commons building which contains the dining hall where the Samwell Men's Hockey Team gathers for breakfast.[13] It's also where Commencement and the Spring Concert take place[7]. Graduation takes place toward the center of Lake Quad, but as they're clearing out all the chairs, people tend to mill around the Beach to say their goodbyes.[14]
North Quad - Also known as Old Quad, legend holds that it was once a graveyard. Faber Rink and the gym sit on the north edge.
South Quad - Once a row of houses owned by professors and administrators in the early 20th century, it now houses the history and economics departments.
River Quad - Also known as East Quad, this lies across the river from Founder's. There are geese. They are violent[7]. The east and west sides of campus are connected by the Samwell Bridge, whose architecture is based on the John Weeks Bridge at Harvard[15].
Additionally, Samwell has at least two more libraries (Norris[16] and Arts & Architecture[17]).
Scheduling
Students begin each semester with a trial period wherein they can "shop" for classes before finalizing their schedules[18]. The semester ends with Reading Week, the week before finals, when no classes are held to allow students to study[19]. In 2015, the school hosted a petting zoo during Reading Week to lower stress.
Sophomores tend to study abroad in the fall semester[20].
Athletic teams arrive earlier than other students to start pre-season.[21] In addition to men's hockey, Samwell has a rowing crew[22], a lacrosse team, a soccer team, a swimming and diving team, a football team,[23] and a rugby team.[24]
There is also a women's volleyball team[25] and a women's tennis team.[26]
School Events
Samwell also has a Symphony Orchestra, and they have a midnight show on Halloween.[27][28]
Samwell has a number of dance events at the end of each semester[29] including Safety Dance, Spring C, and Pond Day.[30] Winter Screw is the annual winter dance[31], and it is customary for your friends to find you a date.[32]
There's a campus printed tabloid and gossip blog called The Swallow[33] and a presumably daily print publication referred to as the Daily, which interviewed Jack Zimmermann after nearly every game of his Samwell career[34].[35][36] The Daily showed up for the Shinny game at the beginning of spring semester Bitty's sophomore year, prompting him to do a jump in his hockey skates.[37]
In 2015, Class Day, when seniors wear cool hats on the quad and celebrate their graduation, was on May 17[38].
About Samwell, MA
Samwell is 30 minutes from Boston and 40 minutes from Providence[39], near Norwood[40]. It is situated along the Samwell River. Near the river, there's a string of nice bars and restaurants that students frequent, as well as cheaper, dingier places that serve giant margaritas and don't throw hockey players out for getting wasted. The Men's Hockey Team prefers Jerry's, where the wait staff knows them by name and Jack was once forced to wear a sombrero on his birthday[41].
Samwell has three Dunkin' Donuts[42] and at least two Stop 'n Shops[43]. There's a frozen yogurt shop called Samwell Superberry.[44] There's a "hip cafe"[45] called Annie's that serves coffee.[46]
The Amtrak train from South Station to Providence takes a little more than an hour.[47]
Further Resources
References
Community content is available under
CC-BY-SA
unless otherwise noted.